In a media saturated world, where we don't often find ourselves too far away from a media device, communicating with people in this new online world has now become a necessity.

As Christians, we have an important message to share and therefore, making sure that the church not only has a presence online but having an attractive and inviting presence that reflects our Christian values is imperative, as Micky Munroe from Guiseley Baptist Church told us when he spoke with us about the recent Custom Designed website he had built by Church Edit: "It's imperative that a church can communicate effectively across all medias today. Websites are already not just beneficial but essential."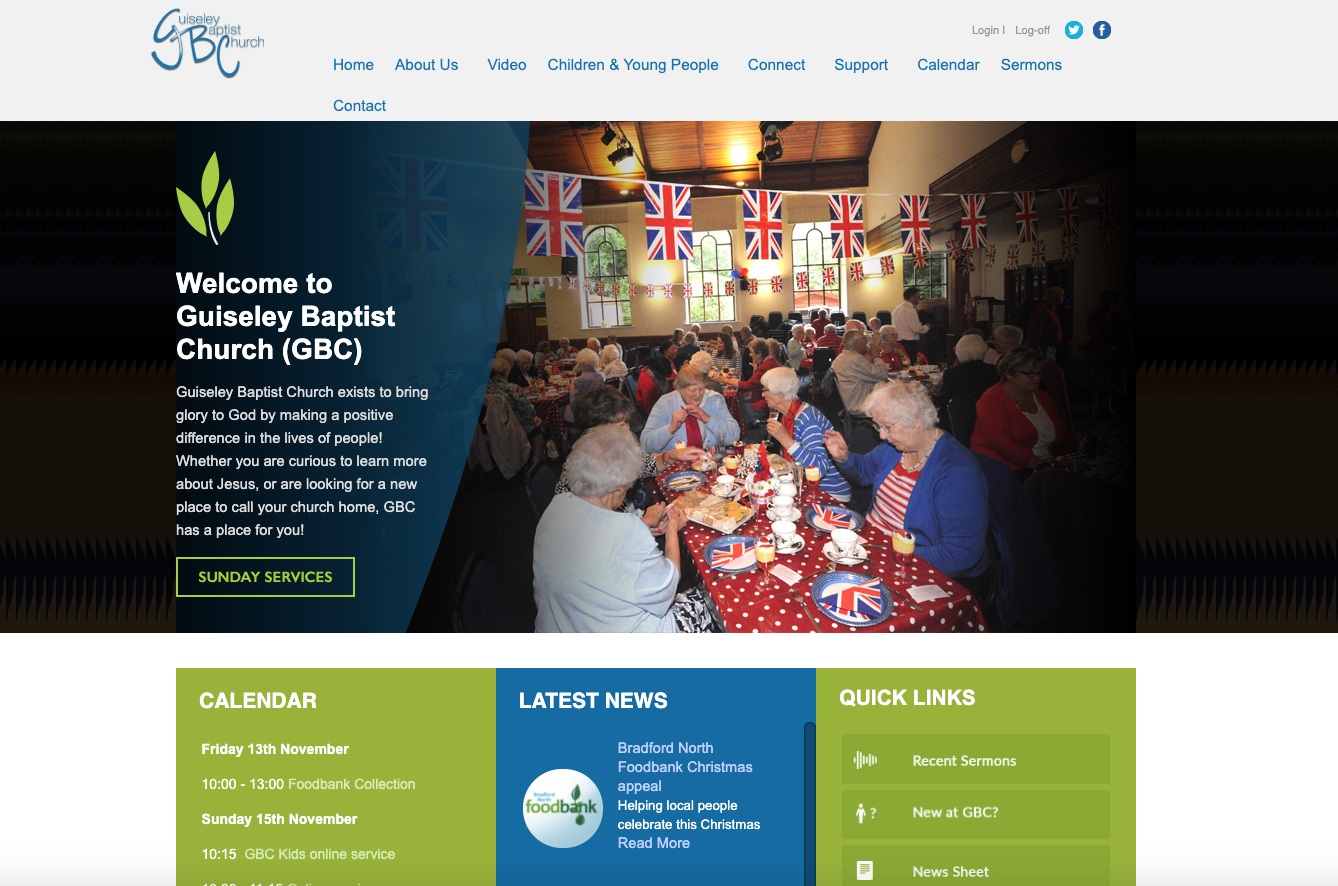 Guiseley Baptist Church were existing Church Edit clients, when they approached us to have their website redesigned, so we asked them why they chose to have this service with us, Micky told us that: "Our previous website was produced by Church Edit and we were very happy with the level of service, so we decided that we would use Church Edit's design services too. I wanted something customised which would reflect our own branding and personality, as church websites can have a particular look to them and I wanted ours to stand out!
The most important thing is that people can get a sense of the church's values and personality from the first visit, enough to make them want to go further into the site or visit the church. There should be a healthy balance between information for church members and attraction to visitors; without an up to date website churches can become invisible to enquirers."

It is great to know that our clients are happy with the service that we provide, however as Christians, our desired result is that our websites draw people into the church through an online presence, so we asked Micky how he felt the new design had so far been perceived; "people like the cleanness and ease of use and that the right information can be found quickly. There is a helpful and welcoming presence due to the diverse panoramic pictures and the latest news feature has been really well received."
In addition, Micky mentioned, "more and more people go to the church website before setting foot in the building or engaging with the church in any way. If a website can effectively communicate its values and the how's and why's of the church, with an attractive and welcoming identity, the chances of someone wanting to meet face to face are much more likely."

The online world is increasingly becoming the norm for people to interact with each other in a modern and globalised society, so it is great to see churches recognising the importance of creating a welcoming presence through a website.

"The service is excellent and the packages and rates that Church Edit offer are very competitive too. I would highly recommend Church Edit, particularly in investing in a custom design package; I really enjoyed working with just one project manager, who had good technical knowledge but also a creative understanding and who understood the needs of a church, this made it a very friendly and personal experience." - Micky Munroe, Senior Minister at Guiseley Baptist Church, www.guiseleybaptistchurch.co.uk

If you are interested in creating a website for your church, or would like to enquire further about our specific design services, such as the Custom Design service that Guiseley Baptist Church had, then please get in touch with a member of our team by calling us on 0121 651 1120 or by emailing hello@churchedit.co.uk