Client Testimonial from Botley Baptist Church
1/5 rating: 5
Botley Baptist is a small evangelical Baptist church based just outside of Oxford city centre, in the South of England. Like many local churches across the country, a lot of service duties often fall to the minister in charge, including the content management of a website. So having a professional and experienced team to provide support and knowledgeable technical assistance is often essential to churches.
It is this particular aspect of Church Edit which brought Kalyan Das, minister of Botley Baptist Church to our team for their website redesign. "The competency of the sales team" said Kalyan, "was the initial deciding factor for me in choosing Church Edit's website platform. The team listened, and responded, to my queries in a professional manner. Emails are even responded to when the main contact person is away. I highly commend the sales, design and tech support teams. The support system is excellent and the team are good listeners, able to translate concepts very well into the design of a website."
All staff at Church Edit are fully trained on the system and are very prompt in their help with enquiries. Churches can always expect to receive knowledgeable advice and support with their website needs from our team.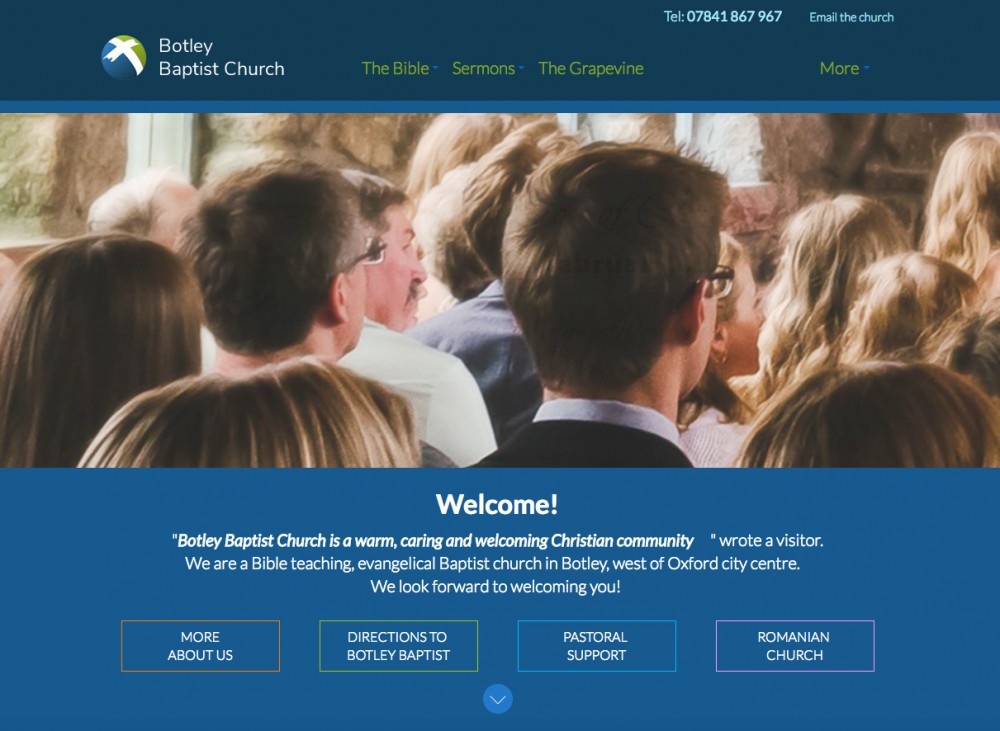 Botley Baptist Church approached Church Edit's design team with a desire for an interactive website that would clearly illustrate the identity of the church whilst also providing the saving message of God's grace. Both these objectives are very clear to see as you navigate their website. The distinctive Oxford Blue colour was incorporated along with a large image scroller to display their connection within the community, and a very clear and uncomplicated menu structure was put in place, putting visitors at ease.
Kalyan mentioned to us that they had received feedback from several of their website visitors, who remarked that the website is simple to navigate and that they particularly like its synergy and flow.
A website that is easy to navigate is some of the best feedback that can be received, as it is vital in an information saturated culture that the church is able to communicate clearly and that visitors are not put off by a complicated structure. We couldn't be more pleased with the response that Kalyan and his team have received.
For churches who want to focus their website as a tool to be used for outreach purposes, simplistic navigation is pivotal to consider in the design. It is important to create a website that does not overwhelm someone who may be new to the Christian message. Basic points need to be laid out plainly so that it is easily digested and encourages further communication.
Kalyan Das and the team at Botley Baptist Church approached Church Edit understanding the necessity of communicating through digital mediums, and the weight that an online presence can have in spreading the message of the gospel. As Kalyan expressed to us: "In this digital age, we must absolutely find new ways to communicate with our congregation and community, clear website design is just one step in that direction and we hope to be doing a lot more online activity in the not too distant future. Our desired outcome is to make God's saving grace, in the person of His Son Jesus Christ, known as widely as possible. Whilst sermons are one way of doing this, the key we feel, is to make our website as interactive as possible. People have concerns about life and living, and we the Church are here to help point them to the One who can and will help them resolve their concerns."
As our culture moves further into digital spaces, the Church needs to also widen its presence online. A website that intentionally encourages interaction, such as that of Botley Baptist Church, is a sensible and strategic objective to have; church websites need to be a dynamic medium that are perfectly placed and capable to meet the needs of the community churches seek to serve.
Church Edit have been collaborating with churches, helping them to create an online presence since 2002. As a Christian company, we understand and serve the needs of the Church. If you would like to enquire about our website platform our team are to happy help. All our support is unlimited and free, and you will always get through to a friendly member of the team who are UK based.
You can call us on 0121 651 1120, or email us, hello@churchedit.co.uk
You can visit the Botley Baptist Church website by clicking on this address: www.botleybaptistchurch.org
Church Edit - The UK's Leading Church Website Provider.